2014 Programs

WAKING IN NEW YORK: THE OPERA ABOUT NEW YORK
BY ELODIE LAUTEN AND ALLEN GINBSERG PROJECT HISTORY
During the summer of 1996, Allen Ginsberg gave to Elodie Lauten a selection of his poems on the theme of New York for a musical setting. Lauten met Allen Ginsberg when she first came to New York. As a member of the band Flaming Youth, she became a guest in his apartment on East 10th St, and accompanied him in his public readings. Ginsberg encouraged her to compose: one day he brought home a Farfisa organ for her to play -her first experience with an electronic musical instrument. He introduced her to Buddhism, and taught her how to chant mantras and meditate. Albeit unconventional, some form of mentoring took place, and she has always felt deeply connected to Ginsberg's life, poetry and philosophy. Waking in New York represents a cultural legacy as Ginsberg passed on in 1997 a
few months after he gave Lauten the poems to set. The
Allen Ginsberg Trust
considers the project an important tribute to Ginsberg, helped obtain the necessary permissions and facilitated contact with Harper Collins, Allen Ginsberg's publisher.
Waking in New York has been in progress for a number of years and is currently being expanded towards its fully staged premiere. It
was seen in concert version and semi-staged readings, including the New York City Opera's Vox series. The CD recorded at Sony Studios
and released on 4Tay was well received: "a moving memorial"(New Music Box), "Compelling work" (American Record Guide), "One of the most influential works of the last 3 decades." (Sequenza21).
This "first reading" of Waking in New York at St Mark's Church continues a tradition of Ginsberg readings in this powerful locus in the heart of the East Village. The June 1st performance will feature the expanded material for a 90 minute performance arranged for piano, contrabass and flute, sopranos (3), baritone and chorus - performed by the St Mark's Chorus.
NEW YORK CITY THROUGH THE EYES OF A POET
In Waking in New York, Ginsberg is just living his life moment to moment. From his apartment in the East Village, his writing is transparent: he tells us about his feelings, observations, perceptions, causes, how he sees the city and the diversity of its people. He is in a constant dialogue with his muses, Freedom and Compassion - characters created by Lauten to represent the 'feminine' side of Ginsberg. Suddenly, he may stop to look at the beauty of a tree, the odd shape of a roof top, even the fumes of an exhaust pipe… He tells stories about the odd mix of characters in the neighborhood. He expresses his love of life, humanity and compassion in a down-to-earth, occasionally satirical vision of the world, alternating with moments of deep emotion and poetic lyricism.

MUSIC
Waking in New York uniquely sets the Ginsberg poetry as melody, which brings out the lyrical qualities of the text – as opposed to other settings where his text was set simply as narrative over music. In Waking in New York every word is sung, even the most unlikely.
Waking in New York webcast from the National Opera America Center - Friday May 30 at 2pm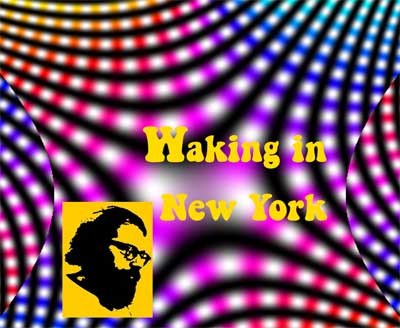 ---
FALL 2013 Programs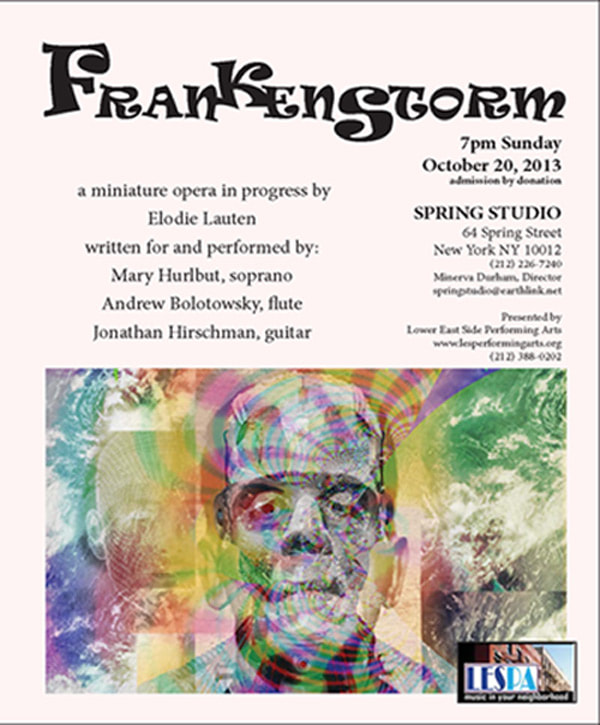 SPRING 2013 Programs

In conjunction with New Museum Ideas City, Art Loisaida Foundation, Smart Clothes Gallery, Lower East Side Preservation Initiative,
East Village Dance Project

OP ON SCREEN WOMEN 2012


With special guests Mary Hurlbut, soprano, and Andrew Bolotowsky, flute

New York Public Library
Hamilton Fish Branch - 415 Houston Street (Ave D)
Saturdays at 2pm - FREE

In its fifth year, in partnership with the New York Public Library, this video screening festival features multi-arts new music theater forms.

Curated by Elodie Lauten, artistic Director, Op on Screen
Women focuses on new music theater by women composers.